What is MOTHER CHASSIS?
■Concept and possibility of mother chassis
 Mother chassis was a plan carried by JMIA based on an idea to expand the bottom of automobile development technology through various "car making".
 The aim of mother chassis was to support various "car making" and expand the bottom of automobile development technology by supplying a general-purpose-chassis which can be used as a base for commercial road going sport car, original custom car, and experimental car including EV.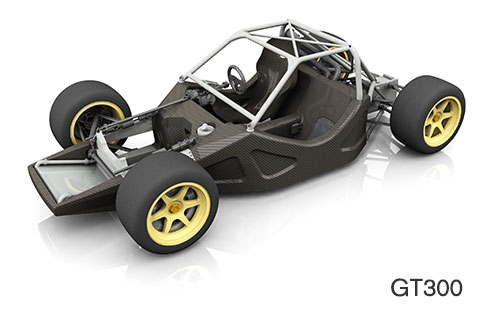 It makes much easier to develop racing sport car which is usually tends to cost a lot if you only use this mother chassis. Especially, there were much potential to be used in Japanese SUPER GT series.
 Mother chassis vehicles have taken part in SUPER GT since last year, are proposed by JMIA to GTA (GT association) who runs SUPER GT based on the above plan. It is developed with the adoption of common parts (chassis, engine, transmission, and others) for GT300 class in SUPER GT, which is determined and to be supplied by GTA.
■Actual condition of GT 300 class
 Originally, GT300 class in SUPER GT was a category which is competed with vehicles developed independently based on JAF-GT 300 in Japan. However, the number of entrants begun to decrease since it's getting to cost much due to advancement of vehicle development - technical level trough racing technology progress.
 Then GTA decided to adopt a vehicle regulated as an international common standard, FIA-GT3 through their performance - adjustment into GT300 class. FIA-GT3 is a commercial competition vehicle, it's developed on mass-produce sports car -base. If only users purchase a vehicle, they can take part in the race and drive as it is, and they can even resell it to other domestic or oversea users. Therefore, it's very beneficial for gentleman users who would like to drive in SUPER GT much more readily.
 Meanwhile, FIA-GT3 also has a demerit to make some garages, who would like to be involved in races through racing technology, feel unsatisfied because original modification is strictly restricted.
 And the users cannot maintenance their vehicles except for the replacement of the virtually authorized parts. Under these circumstances, Mother Chassis begun to be driven as a GTA newly established GT 300-MC class machine. GTA took steps toward supplying Mother Chassis for users, who are not attracted by FIA-GT3 since they cannot display their craftmanship through the fabrication of racing vehicles, and who cannot follow up the cutting- edge technology nor bear its development costs though they'd like to race in GT 300 class. Eventually, it's for keeping domestic accumulated racing technology alive in Japan.
■Compatibility with safety and performance
 Common monocoque of carbon composite structure is a key of SUPER GT mother chassis. When you try to develop a GT 300 vehicle, general garages are deadlocked against a wall that they need to curb the costs with making it compatible with the driving performance, which improved year to year, and its safety. In the past, a frame can be fabricated with metal processing, however, it's incompatible for performance and safety at present. Nevertheless, design and fabrication for carbon frame needs special technique.
 Mother Chassis is a common monocoque developed by Dome based on UOVA manufacturing method, balancing out its performance and safety, and even decreasing its production cost. It's a common monocoque which each garage can assemble their original GT 300 vehicle if once they install their self-developed suspension or body (Note: Needs to get approval for the bodies from each maker). Engine and Transmission for Mother Chassis are also supplied from GTA as a common part. Mother Chassis supports garages based on each engineering knowhow and financial resource, which would like to take part in SUPER GT with taking advantage of their brains and technical skill.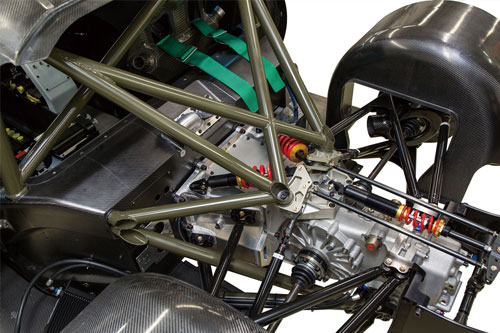 ■Mother Chassis came into action
 After building up matureness with mounting Toyota 86 body through entering the latter half in 2014 series, 4 chassis of Mother Chassis entered in 2015 series. 3 chassis among them are Toyota 86 produced as a complete car by GTA, remaining 1 chassis is Lotus Evora whose engine is mounted in midship.
 Mother Chassis showed their speed especially at technical skill required -circuit as a full-fledged race car in full scale entry - 2015 series. In preliminary heat, Vivac 86 MC was pole position at 3rd round, Lotus Evora acquired pole position at 5th round -Suzuka and 7th round-Autopolis. In final, Viva 86 MC came to 6th place at the opening game-Okayama, won a prize as 5th place at 4rh round -Fuji, won the championship for the first time as Mother Chassis at 6th round – Sugo. Mother Chassis's further success is anticipated since its matureness and evolution are further progressed in next series.